G. HATTERSLEY & SONS LTD.
In 1789 Richard Hattersley founded a company in Stubbings Mill, Airworth, that manufactured bolts, nuts and other small parts for textile machinery. The same year Richard's son George Hattersley was born, who later was to become involved in the business, which was to evolve into G. Hattersley and Sons Ltd.

After Richard Hattersley's death in 1829 George took over the business. In 1834 George was asked to build a power loom that could weave worsted cloth, something that only had been done on hand looms up to this point. This was a big challenge, however George managed to make this loom and sent it off to the buyer. However, the loom was smashed up along the way by a group of revolutionary handweavers who feared for their livelihood. Fortunately, George made a replacement loom and this was sent to the customer.

G. Hattersley and Sons Ltd. developed into a rather large company during the years. They had circa 1 100 employees just before the First World War and continued to be a successful business well in to the 1960's. During this time the market plunged and many companies in the textile machinery field had to close down. So did G. Hattersley and Sons Ltd. too, closing their factory in 1984.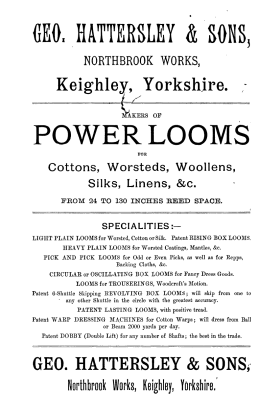 G. Hattersley and Sons Ltd. manufactured quite a few different looms, and during one period they had as many as 26 different basic models in their catalogue. Some of the more notable ones where amongst others the "Hattersley Dobby Loom" from 1867. A "dobby" is a kind of system for lifting the shafts of the loom, which enables the loom to weave more advanced patterns than with the more traditional system.
In 1908 the "Hattersley Narrow Fabric Loom" was introduced, as the first narrow fabric loom in the works. This was used to weave wicks for oil lamps with, amongst other things.
After being introduced in 1921, the "Hattersley Standard Loom" was sold in the thousands. This is a motor powered loom, which was made in lots of different versions.
For the home weaver the "Hattersley Domestic System" was introduced circa 1900. This was a "kit" with a loom, a pirn winder and a warping mill. This loom was to become associated with the Harris Tweed industry in the Outer Hebrides in Scotland.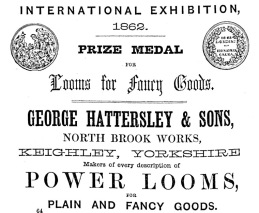 During the spring of 2019 I had a plan to focus more on weaving tweed. As a weaver you often end up focusing on different branches of weaving, and for me one of those have been tweed. I had already woven rather a lot of tweed on my floor looms at home, but I found the colour changes rather frustrating and it felt like quite a slow process.
There had to be another way - but how?

In February 2019 I sat together with friends in a restaurant in Kil in Sweden, where I was teaching at the Sheep & Wool Festival. We were talking about weaving tweed and all of a sudden I heard myself say "Maybe I should just get one of those Hattersley looms from the Outer Hebrides and get on with it?". My friends know that I'm kind of an impulsive and stubborn person, and it wasn't too long before I had managed to find one that was up for sale. I decided straight away to buy it.
Now I faced some problems I haven't really had before:
How do you transport a 500 kilo cast iron loom?
I don't have a studio to house this loom, where do I put it?
The answer to all these questions were "I'm sure it'll work out somehow." and all of a sudden she was on her way.

Hatty the Hattersley is a 500 kilo cast iron lady. I'm not sure exactly as to when she was manufactured, but as all Hattersley looms she was made in Yorkshire. I know that she used to live in the Outer Hebrides and that she in the 1950's lived in the isle of Harris, and that she then moved to the isle of Lewis. When she arrived in Balallan on the isle of Lewis, she was used in the Harris Tweed industry up until the end of the 1970's. At this point her weaver passed away and she was left in her loom shed for many, many years. One of the great things about Hattersley looms is that they are very sturdy, and Hatty didn't really care when parts of the shed roof fell in and that chickens moved in with her. Patiently she waited, but at one point she made the decision to pack her bags and move to Sweden.